The Story of Perelandra
Home Page > The Story

In November 2002, Perelandra, under her previous ownership, was the victim of an unfortunate gasoline fire (she was equipped with an old Gray Marine Sea Scout gasoline engine).

Two years after the fire, the owner, who had purchased another Seabreeze, considered selling what remained of Perelandra. This page details my first viewing of the boat on October 9, 2004: was I crazy enough to consider this magnitude of project?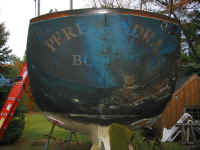 What Happened?
The story behind the fire is the sort of thing that could happen to anyone, and highlights the potentially volatile nature of gasoline.

The owner filled the gas tank, which was located beneath the cockpit, full of fuel during his final preparations for winter storage. We have all heard that full fuel tanks are supposed to reduce the possibility of damaging condensation inside, so filling the tank is logical. Attempting to start the engine in order to run antifreeze through the cooling system, he found that the engine simply would not start.

Through repeated cranking, the batteries became substantially discharged. After some time, he hooked up an AC battery charger to reinvigorate the batteries for later starting attempts or, failing that, to better prepare them for storage. Eventually, to troubleshoot the engine problem, he removed the carburetor for inspection and possible maintenance. Carefully checking the throat to ensure that no fuel was leaking, he brought the carburetor to the garage for alter attention, and headed for the garden.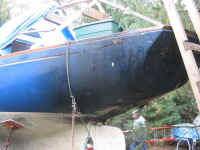 Not long after, he remarked that he heard two banging sounds. In the microseconds of time that it takes for the human brain to process information, he thought to himself, "That sounds like the cockpit locker lids slamming shut"...and then, the further realization that, "Wait: the lockers were closed; why might they have opened and then closed again?"
Rushing to the boat, he jumped on to find an inferno. With the only large fire extinguisher helplessly out of reach at the forward end of the cabin (the engine room and companionway were in flames), he realized that he'd never make it, and instead jammed a Lexan/wood-framed drop board into the companionway, slid closed the hatch, and hastily climbed off the boat to wait for the fire department. The 15 minutes it took for them to arrive must have seemed an eternity.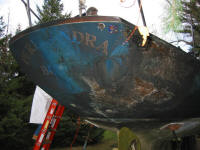 The fire raged for a couple hours before being brought under control. During that time, flames shot out any available opening, including the garboard drain and, impressively, the fuel tank vent located in the transom; it was flames from there that not only caused the exterior hull damage seen in the photos, but that also, according to the owner, sent 30' flames shooting out towards the woods and fields beyond.

The cause: leaking gasoline from the engine, from the removed carburetor, met an ignition source as a result of the charging batteries.

Please click here to continue the story. >>>