Current Status: Project Indefinitely Postponed.
Home Page > Update Status
Click here for the full site update history.
September 1, 2010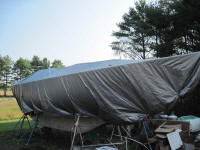 With mixed feelings, we made the decision during the summer to indefinitely postpone (read: cancel) this project. The reasons behind this decision were complex, but centered around some very different thoughts we were having about our future cruising and boating needs--thoughts that had been manifesting themselves for the past couple years.

This was a difficult decision, one made over time and with much thought. This would still make a great and beautful boat, and everything I've said about the design and her potential still stands, but for reasons I'll discuss elsewhere we decided we were interested in a different direction. A lot had changed since 2004, and it seemed better to admit to our inner feelings than to push on against the grain. Coming to terms with the potential expenditures--both precious time and money--for our next big project also meant we had to be sure we were spending both on the right boat for us.

Having come to this decision, I reinforced the coachroof from beneath with some supports (to support future snow load on the cover), built a simple framework over the gaping cockpit hole, and gingerly moved the boat outdoors for storage, after which I covered her securely. I was melancholy, but also excited at the new prospects ahead.

Later, we transferred the ownership of the boat, and she was taken away.

Here's what's next.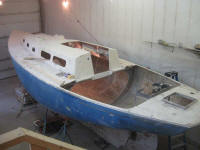 March 19, 2010
Progress has been slower than I'd hoped during the latter part of this winter. Work commitments and other requirements have taken most of my weekends of late. A few weeks ago, I even thought I'd have to temporarily move the boat out of the shop to make room for work projects; fortunately, it appears that this won't be necessary after all, which is good news.

I have the material on hand to begin the repairs to the stern quarters, and look forward to beginning soon. When that will be I can't say for sure, but hopefully my weekends will open up in the near future, at which point I can get back to work.

This website is about action and progress, not excuses, but I felt a brief update was in order to explain the current status and reassure you, dear reader, that progress will surely soon continue.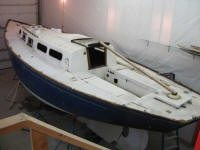 October 6, 2009
Now that the project is underway, most new updates will occur in the project logs.

Click here to go to the project logs. >>>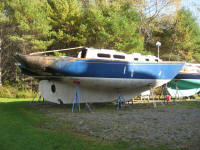 October 5, 2009
I uncovered the boat for the first time in over two years, and moved her inside my shop, where I could begin the long project ahead.

Click here for more. >>>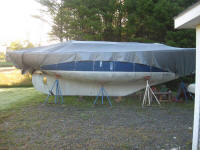 September 30, 2009
Newsflash! This project will begin this fall. Watch for updates soon. This is very exciting, so stay tuned (assuming anyone is still watching and waiting for this project...)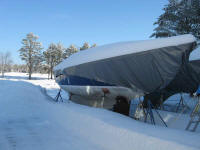 January 19, 2009
No change in the status.

August 3, 2008
No change in the status.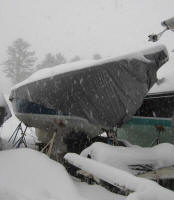 December 31, 2007
Pixie remains outdoors and tightly covered against the weather. Shop space availability, personal time, and, most importantly, financial capability remain the factors affecting the eventual start date of Pixie's rebuilding.

June 4, 2007
Yes, this project will eventually happen.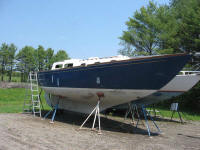 But for now, I had to accept the fact that I had neither the time nor resources to do any immediate work on the boat, and therefore came to the difficult conclusion that I needed to move her out of the shop, as I needed the space for other projects.
Therefore, I had her moved back outdoors, where I installed a new tarp to keep the water out. (Sorry...no photo of the tarped boat at this time.)
I'm quite anxious to get going on the project, but until I am truly ready there's no sense pretending. So stay tuned, and eventually your--and my--patience will be rewarded. I'll post status updates as appropriate.
January 19, 2007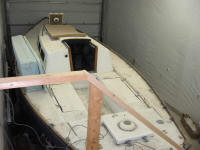 I have no progress to report, unfortunately. This project is turning into a longer proposition than I originally intended; it's been over two years since I bought her, but I just haven't had the time to dedicate to her restoration.

I always intended this to be a long-term project, however, so it's not really a surprise. Lack of progress so far doesn't mean that things aren't going to get going. Anyone who knows me knows that I always follow through. Once I get going, things will start to happen regularly and quickly. But until I can truly dedicate the time, money, and resources to the job, I won't do much.

That said, I still hope to do the basic demolition this winter. Stripping the boat back to her essence will not only remove the forlorn appearance, but will also provide inspiration for her rebuild. A blank canvas is an exciting thing.

June 25, 2006
Things are still on hold. I've taken the summer off to build a new house on our property, and all boat activity is now pending completion of the house later this fall.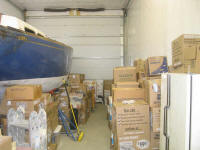 Since we moved, all our boxed belongings are stored in the shop next to and around the boat, which would make any work impossible regardless of other commitments. By the winter, the shop will be empty of personal belongings and demolition work on the boat can begin as time allows. While I am not making any firm schedules for this project, I would like to manage to strip her back to hull and deck over the winter, removing the fire-damaged interior and preparing for new work. I'd also like to grind the hull and deck to remove old paint and prepare for new work.
I realize this site is growing very slowly. But if you keep coming back, I promise that eventually there will be work to see!

February 15, 2006
Pixie moves indoors! Click here for more. >>>

November, 2005
The pupa is back!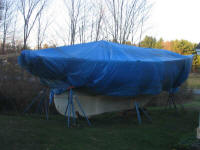 Last year, a friend quipped that the boat looked like a pupa the way it had been covered. The name stuck, of course.
So, after a summer exposed--but during which no work occurred--I recovered the boat in late October. The plans are to transport her to the new shop sometime late this year, but to hedge my bets against early snowstorms and freezing, I located a derelict old tarp somewhere and covered the boat--a token, but then there's little that can hurt the boat in her current condition. Mainly, I wanted to keep out additional water that might freeze in the bilge. The garboard drain has been performing admirably, however.

October 18, 2005
Unfortunately, I have no progress to report on the boat at this time.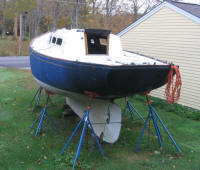 When we bought the boat just over a year ago, we didn't anticipate that we would find--and purchase--an excellent plot of acreage about an hours' drive away. Such a property (50 acres, in this case) had been a longstanding dream for us, so we jumped at an opportunity.
This shook things up, as building a new house and larger, improved boat shop meant that we would not, for the time being, have resources available for Pixie's restoration. Therefore, until the new house is complete in 2006, we don't expect to be working much on Pixie.
That's OK, as she was always intended to be a long-term project, and we bought the boat as much to secure a desirable design as anything. Once the new shop is complete, hopefully by late 2005, I expect to move the boat there, and place her inside, where deconstruction work can begin as time allows.
If you're interested in the new shop, please click here.
(Opens in a new window)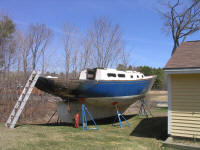 April 20, 2005
The wind took care of the small forward portion of the cover, so I decided to finish the job and remove the remaining cover. I had considered leaving her covered, but frankly, I wanted to see the boat again, and was sick of the blue tarp.

Having the boat uncovered gives me a chance to climb aboard from time to time and reflect upon the job ahead. The damage inside is devastating, but things will seem better once I get an opportunity to begin some demolition, hopefully this summer. Meantime, a little rain isn't going to hurt anything.

There was lots of settling, heaving, and other ground motion during the winter, and I was constantly readjusting the stands. Now, with the boat open and more room, I decided to rearrange the stands, reset them on new pads on the ground (pressure on several had forced the stand bases right through), and add two additional stands amidships. The weakened stern quarters had begun to deform under the after stands, so with the additional set amidships, I could relieve the pressure safely on the aft stands.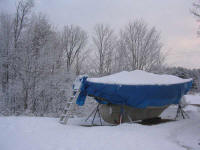 February 4, 2005
There's no action on the boat, but I thought this was a pretty shot in the fresh show.

January 3, 2005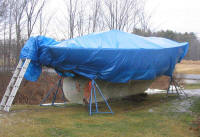 The boat waits patiently her turn in the workshop, scheduled for sometime in mid-2005. She's covered with blue tarps, temporarily hiding the devastating fire damage from view, if not from my mind. The tarps manage to accentuate that beautiful sheerline, though.