Project Log: Sunday, April 4, 2010
Home Page > The Project > Project Logs > 4/4/10

I began by quickly washing yesterday's epoxy work, then sanded the areas lightly as required. This didn't take long.

Now, onto the cleanup. Cleaning the boat and shop turned into more of a project than I'd expected, by the time I moved things out of the way in the shop, cleaned residual dust off some of the items I'd had stored hither and thither, and so forth. I had to remove a collection of dusty tools and bits from the boat and move all the lighting temporarily. I removed some old wood pieces--such as the boat's coamings--from a nearby shelf, where all they did was collect dust, and removed some bronze hardware for safekeeping before stashing the coamings in my outdoor junk pile. They were worthless, but I'd hang on to them as patterns for possible later use.

I started by sweeping off the deck of the boat, and then sweeping the shop floor to get rid of the worst of the dust and debris; even though the shop was fairly clean, there was a lot of dust on the floor in harder-to-reach areas, like around the blocking and jackstands.

Once I'd swept up, I rinsed off the boat, starting with the deck, then the interior, and then the hull, before rinsing the floor as well.

Once I'd left the boat to drip dry for a while, and allow the interior to drain, I vaccummed the collected water out of the centerboard pin well and forward part of the bilge, where the water was now contained as I'd hoped. I also vac'd out the main bilge to remove the final sludge.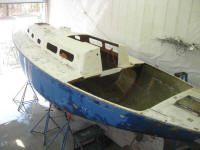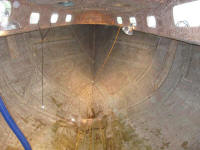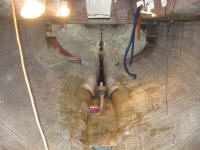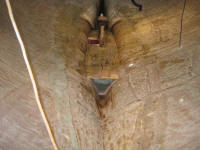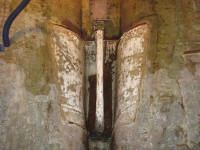 To round out the day, I removed the cover over the centerboard sheave housing, an area I'd not yet opened. I'd probably make a new cover later, depending on how I decided to lead and/or reconfigure the centerboard cabling, but for now I set it aside for storage.

My entire outlook and attitude were greatly enhanced by these efforts, and I started to look forward to continuing with the project--which I did all along, but frankly I was looking forward to being done with the largest of structural repairs, and wanted badly to be on the other side of that particular obstacle.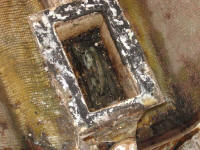 Total Time Today: 2.75 hours

Previous | Next